Art Preview: The Wanted Poster Of Jessica The Cat
---
The Mischievous Thievery Of Jessica The Cat started as a prototype I built in Twine for the Global Game Jam in January 2021, which was themed "Lost & Found". The game was inspired by an old 34-second YouTube video posted in 2015 titled "My cat went to the neighbours to borrow a tiger plush toy :)", which features the amusing antics of a little cat named Timmy who had run over to his neighbour's house, "borrowed" a plush tiger toy, and run home to play with it in his garden.
Recently I learnt that Timmy had, unfortunately, died on 27 April 2021. I wanted to mention all of this before I talk about the art preview because, through the video, Timmy brought joy to millions of people over the years, including me, and I feel it's important to acknowledge that and pause to reflect on his death. His mischievous thievery and the absolute prideful pleasure that's evident in the curve of his tail and the swagger of his walk, nevermind how he gleefully attacks the toy when he plays with it, gave me the idea nugget for this game and I will forever be grateful.
Rest in peace little Timmy.
During the Global Game Jam I had intended to make a full small game, not just a prototype, but it became clear as I was working that I wouldn't have all the basics I wanted in place in 48 hours so I worked to have a fully playable prototype done with some of the less crucial elements missing, such as bits of the game art and the full area of the game space on the map. That version of the game is currently embedded on the itch.io page, where it will remain until I release an update, and will permanently be available as a downloadable ZIP file here and on the game's Global Game Jam page.
That 48 hours had already pushed my Twine skills much further ahead because I figured out, and learnt how, to do some things that will be useful for future projects but for the past few months I have been working on completing the original idea of the game, with all the missing elements in place, to satisfy my intention to achieve all the game-development goals I had set for myself during Global Game Jam. As I've had the time, however, I've also been dabbling in small elements that weren't part of the initial set of goals, including creating a selection of art pieces for the story portion of the game. These extra elements are not necessary for the game to function but they have been fun to work on and have helped to expand the world that Jessica and the detective inhabit in my mind.
One of these art pieces is a wanted poster featuring our antagonist, Jessica the cat, and this blog post is the first public debut of her design in the game. (How she visually came to be is a whole other story for another time because pixel art is hard!)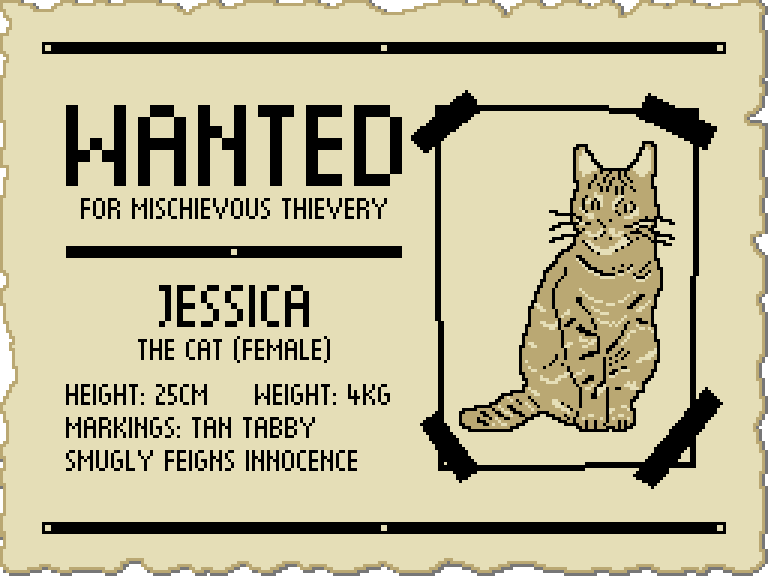 As for the game, itself, I have been adding the missing tiles (text and, where applicable, art) to fill the full 5x4 map space, which is nearly finished; I have been optimising the original code (I found bits that could be optimised and/or removed entirely!); I have made the entire game visually prettier and have redesigned some of the original art elements; and – still in the early stages of experimentation – I have been working on the more complicated version of the game in which the clues will actually be hints to help the player find the teddy bear that Jessica has stolen, whereas now it's all completely up to chance.
While working during the jam I had also noticed that what I was building was actually a form of game engine within Twine that, although complicated (I can't quite just cut and paste text and art elements into it as I need to build variable-based procedural-generation elements into the text and that means a little bit of tweaking as you go), was modular enough that the original idea of the game – a detective looking for a young girl's missing teddy bear – could theoretically be expanded to include multiple cases of mischievous thievery for the player to investigate.
That's potential I'm bearing in mind even as I work hard to complete the original game: as captured by the wanted poster, our mischievous thief feigns innocence but we know there's a diabolical plot forming in her head and someone's something is going to go missing soon. It's happened before; it will happen again. For now it's Katie's teddy bear – but the future may bring more surprises.